Hey Chicks,
At FIT CHICKS Academy we love seeing the creativity and hard work of our Fitness & Nutrition Expert Program (FNE) students and grads. Today we are pumped to share this recipe with you from Fitness & Nutrition Expert  Jenni Runner! Jenni created this recipe for one of the assignments in the Nutrition Module of the FNE program. We are excited to introduce Jenni and her creation!
Hi! I am Jenni Runner. I love eating, and learning how to eat the best for me is something new over this past year.

Before doing FNE, I had been working on my health for a year. I had been transformed so much that I wanted to help other ladies. That is when I searched and found FNE. Since taking FNE, I am able to understand the compartments of my life better

I choose FIT CHICKS Academy for the interactions, the way FNE was taught, not just self paced, and if I get stuck on understanding, they will explain.

My biggest takeways from the FNE program are: How everyone can be so different with their numbers. That my passion has not waivered with all the learning I had to do. Making small tweaks can make a huge difference.
Hot Blueberry Protein Oatmeal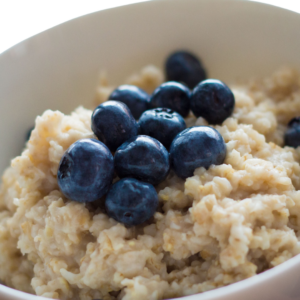 This yummy, moist, blueberry popping oatmeal has protein and fiber that will keep anyone fuller longer. I love blueberries warmed up so that they are moist and they will pop in my mouth if they did not in the pan already. During the summer I love overnight oats, but this winter they were at times too cold to eat.
Oatmeal is full of fiber that will help with keeping me full and help with cholesterol from spiking up. I add a scoop of protein powder because for me I need more protein to begin the day to stay fuller longer and not want to munch as much. You can have this for breakfast or anytime of the day!
This is a nutritionally dense "Complete in 3 meal." Complete in 3 is when you have protein, fat, and fiber in order to balance your blood sugar. There will be some who will want to see it as carbohydrates, but if you are getting enough fiber, then the carbohydrates would balance out. Not everyone will want to count calories their entire life, but focusing on the complete in 3 rule, you will be able to eat a complete meal which balances your blood sugar.
PREP TIME: 4 minutes
COOK TIME: 12 Minutes (2-3 minutes to bring to boil, 9 minutes to cook)
TOTAL TIME: 16 Minutes
TOTAL SERVINGS: 1 Serving
TOTAL CALORIES PER SERVING: 543 calories per serving
MACRONUTRIENT BREAKDOWN PER SERVING (INCL FIBRE GRAMS!):
Carbohydrates: 69g
Fat: 15g
Protein: 46g
Fiber: 16g
INGREDIENTS:
0.50 cup, Rolled Oats
1 cup, Extra Creamy Unsweetened Almond Milk
1 cup, Blueberries
¼ tsp of sea salt (optional)
0.50 cup (170 grams), Oikos Triple Zero Vanilla
0.50 tsp, Cinnamon, ground
1 scoop, Whey Protein, Vanilla Ice Cream
2 tsp, Sweet Complete Sweetener (optional)
1 tbsp, Chia Seeds
DIRECTIONS
Pour milk into pan and bring to a boil.
Reduce heat and add the oatmeal and half the blueberries to cook for 9 minutes.
Get all the dry ingredients in a bowl and yorgurt ready.
In the last 1-2 minutes add the rest of the blueberries.
Turn off the burner and add rest of the ingredients and mix thoroughly.
Pour in a big bowl
Enjoy!
TIPS TO ALTER IN LIEU OF A DIETARY RESTRICTION
If you cannot have almond milk, you can substitute any other milk (whole, oat, coconut) or just use water.
You can substitute raw honey or maple syrup for the sweetener or just omit it all together. Most of the time, I omit it altogether.
TIPS TO SUB AN INGREDIENT TO ALTER THE RECIPE
If you do not want blueberries, you can add blackberries, or any other berry.
You can omit the blueberries altogether.
You can add frozen berries, but you might need more sweetener.
You can add more than .5 tsp of cinnamon. I have gone up to about 2 tsp.
Instead of Oikos triple zero or Pro, you can do plain Greek yogurt.
ADDITIONAL NOTES
I discovered that if I pour all the dry ingredients except for the oatmeal in my bowl, it will speed up the time of mixing at the end.
Thank you so much fro sharing Jenni!
PS Do you want get CERTIFIED as a Fitness & Nutrition Expert?  You can get started TODAY so download our program brochure here and learn how you to create your dream life, health & career!