Hey Chicks,
At FIT CHICKS Academy we love seeing the creativity and hard work of our Fitness & Nutrition Expert Program (FNE) students and grads. Today we are pumped to share this recipe with you from Fitness & Nutrition Expert  Ashley Hoath-Murray! Ashley created this recipe for one of the assignments in the Nutrition Module of the FNE program. We are excited to introduce Jenni and her creation!
Hi! I'm Ash Hoath-Murray! As a Mom of 3 awesome humans, I felt like I was constantly trying to live up to the images of motherhood on TV, in magazines and on social media. I was tired of trying to pretend I had it all together. I was losing myself trying to reflect what the world had determined I should be. I've always loved food, movement and self-reflection. But the world of health, fitness and wellness often focuses on a day in the future where we are supposed to feel proud of a number on a scale that doesn't tell the story of what we had to do (and give up) to get there. I began a personal journey where I gave up the scale and started to focus on living in the motherhood moment. I focused on what my body and soul needed to be nourished, joyful and balanced.

mombodLIFE is a health & wellness coaching business that empowers moms to build balanced, joyful lives. Primarily a virtual service, clients experience a hybrid coaching model with both 1:1 and group coaching. The pillars of the program are accessible nutrition, healthy movement, personal space and authentic identity. The starting point for each mom is a series of reflective coaching sessions. These sessions provide space to explore what she wants from life, who she wants to be and what she needs to add, remove or adapt to live her best mom life. These conversations form goals that have a higher chance of achievement because each mom is internally motivated instead of shamed or persuaded to showcase a similar version of what she sees in the outside world. 

Before doing FNE, I left a successful career in not-for-profit management. I fell into the job right out of university and stayed for 16 years. While I've always liked my job, I've never loved it. I carved a niche in the industry that focused on mentorship curriculum, mental health supports in adult learning and implementing inclusion in not-for-profit spaces. I took my canfitpro Group Fitness Instructor training in 2012 when I was on my first maternity leave. I tried to balance teaching Mom & Baby Fitness, Zumba, Family and Adult Bootcamp and StrollerFit when I returned to work, but eventually gave priority to my not-for-profit work. I let my certification lapse.

I'm looking at 40 and I'm finally realizing that I get to decide what health & wellness means to me. I have struggled with anorexia, bulimia and body dysmorphia, but have finally broken free from the scale. I worked with an awesome holistic nutritionist in 2022 to help balance hormones, but unfortunately was unable to serve most of the meals to my family. I decided I had a purpose and a niche to carve in the industry. I'm looking to serve middle age moms who need simple solutions to feel good about themselves and all they do for their families.

I choose FIT CHICKS Academy because I love the women-centred aspect of FIT CHICKS. The marketing was clear and I loved being able to purchase the bundle.

My biggest takeways from the FNE program are: I love the triple threat – Fitness, Nutrition & Wellness! The course work is hard! I've been an avid reader of health materials all my life and I'm learning new things! There is little focus on the scale – this program was made for me 🙂
Big Mac Burger Bowl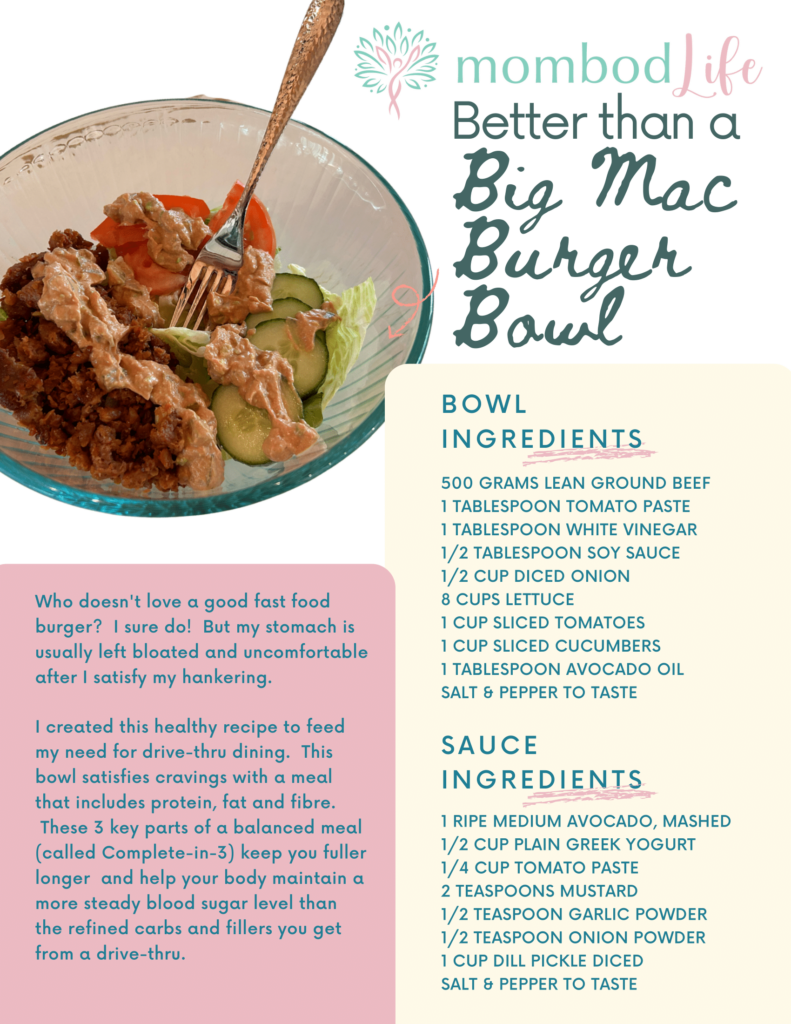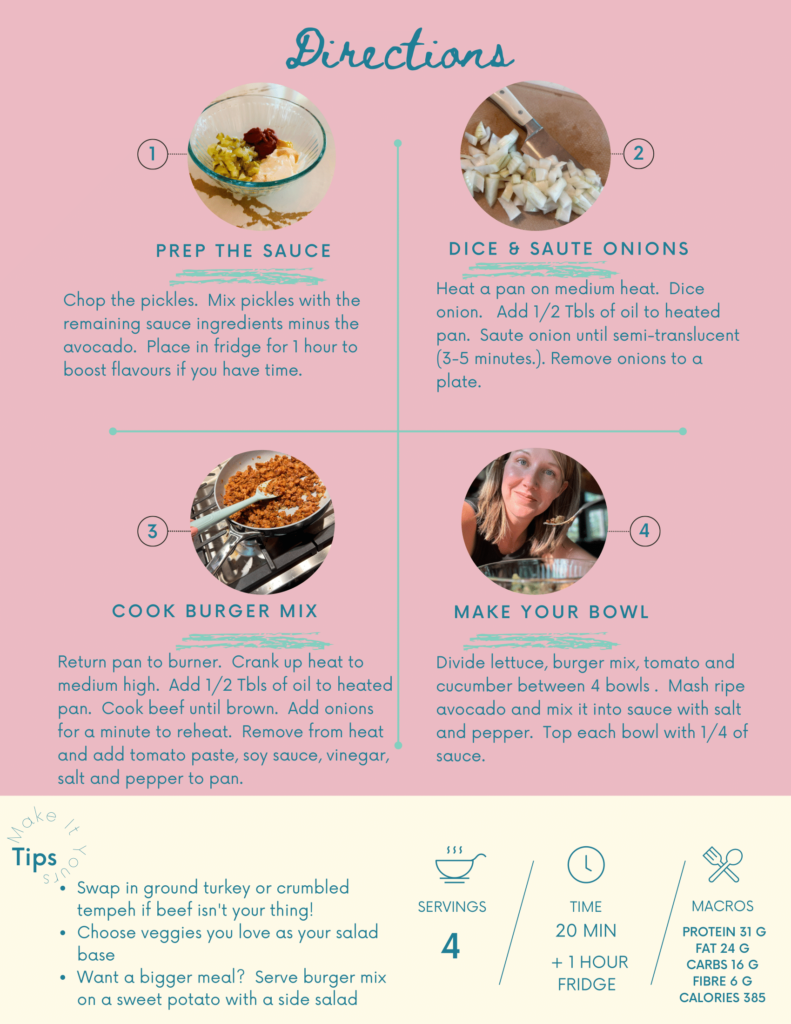 Thank you so much for sharing Ashley!
To learn more about Ashley and her programs you can follow her @mombod.life or visit: www.mombodlife.com
PS Do you want get CERTIFIED as a Fitness & Nutrition Expert?  You can get started TODAY so download our program brochure here and learn how you to create your dream life, health & career!