Hey Chicks,
At FIT CHICKS Academy we love seeing the creativity and hard work of our Fitness & Nutrition Expert Program (FNE) students and grads. Today we are pumped to share this recipe with you from Fitness & Nutrition Expert  Danielle Jean! Dani created this recipe for one of the assignments in the Nutrition Module of the FNE program. We are excited to introduce Dani and her creation!
Hi! I'm Danielle, or most call me Dani! I am a nature and animal lover with a passion for fitness and helping others be the best that they can be, through all of lives challenges!

Before the Fitness & Nutrition Expert Certification Program I was struggling in every way imaginable. I had recently had new health diagnoses, going through a divorce, falling into depression, and failing to take care of myself. I had always loved helping others and sports and the thought of helping others kept me going and ended me up on the right path!

I chose FIT CHICKS Academy for several reasons, I LOVED that in addition to fitness they also teach nutrition AND mindset/wellness – a HUGE bonus in this industry. A program that was made by women for women, is always something important to support for me. And because the information session I went to – I fell in love with Amanda and everything she stood for and knew that I wanted to be apart of this!

My biggest takeways from the FNE program are: Training and health are for EVERYONE. How to take care of yourself while taking care of others. And probably the biggest takeaway is how much fun fitness, coaching and making this a life can be!
Pork Taco Skillet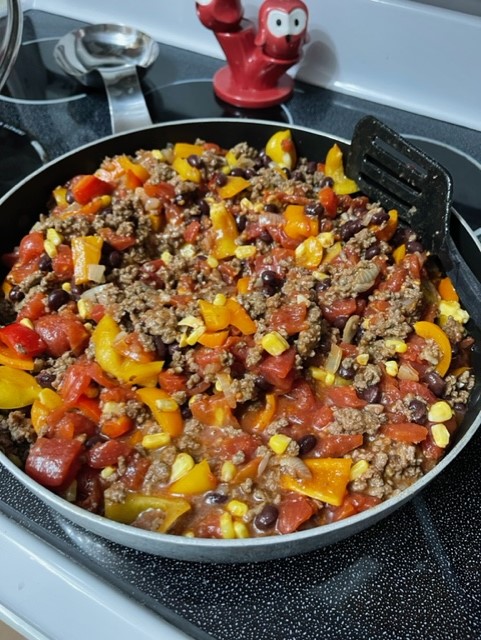 Let's talk meal prep! This is my take on Stuffed Peppers – less time consuming, a little less tedious, and so easy to do! OH and it's all in one pan! Something that can be adjusted for everyone in your home this makes an incredible meal when you make it BUT it also is so great for meal prep for your weekly lunches as well! What I love is it's versatile you can use Tofu, Beef, Chicken, Turkey, or any other protein that works for you! I personally have done it with Beef, Turkey and Pork and love it every single way!
This idea came from being busy, working full time and alternating shifts from my husband there isn't a lot of overlap in our days and we both LOVE stuffed peppers, but the time it takes to do stuffed peppers properly is just too long! This was the best of both worlds, it's faster, just as delicious, in one pan so less dishes, and no oven needs to be turned on! There's also different ways to do this I have included white rice in this recipe but you can use brown rice, or cauliflower rice, OR you can eat it on other grains or greens or put it in a taco bowl or a wrap! The possibilities are almost endless!
TOTAL SERVINGS: 8 Serving
TOTAL CALORIES PER SERVING: 376 calories per serving
MACRONUTRIENT BREAKDOWN PER SERVING (INCL FIBRE GRAMS!):
Carbohydrates: 27.8g
Fat: 30.9g
Protein: 23.8g
Fiber: 5.8g
Net Carbs: 22g
Sodium: 454.7mg
Cholesterol: 60.9mg
INGREDIENTS:
1 Pound Lean Ground Pork
2 Large Sweet Bell Peppers Chopped (the colors you like – I usually use red yellow or orange!)
4 Tbsp diced Yellow Onion
5 Minced Garlic Cloves
2 Cups Diced Tomatoes (no added salt)
2 Cups Black Beans (no added salt)
1 Cup Sweet Whole Kernal Corn (canned)
5 Tbsp Taco Seasoning Mix
5 Cups Minute White Rice
2 Cups Shredded Tex Mex Cheese
DIRECTIONS
Place pork in large non-stick frying pan let brown over medium heat while breaking into chunks.
Chop up vegetables. Drain black beans and corn.
Add onions and garlic to pan stir in with meat, add taco seasoning with 3Tbsp water and coat the meat.
Once aromatic, add in the remaining vegetables let simmer while stirring for a few minutes.
Once veggies start to heat up add in the uncooked rice, stir in to coat grains well. Turn the temperature down to low and cover. Let simmer so the rice cooks (rice will absorb the juices). About 10 minutes.
Once rice is just about cooked, remove lid and stir together again, top with cheese cover and let simmer until cheese melts.
TIPS TO ALTER IN LIEU OF A DIETARY RESTRICTION
Can make an easy vegetarian alternative with eliminating the meat and using tofu or even other beans instead! Can have dairy-free cheese if there's a sensitivity to dairy as well. Mix and match the veggies to suit your preference and taste!
TIPS TO SUB AN INGREDIENT TO ALTER THE RECIPE
If you like it spicier, add in chili or cayenne pepper while cooking or top with hot sauces of your choice! Can be great for meal prep lunches as they are quick and easy to reheat for the work/school week. Enjoy on its own or with Salsa and Sour Cream! For extra fiber and a nice healthy side option add a side salad with a balsamic vinaigrette.
ADDITIONAL NOTES
One of the greatest parts about this one-pan meal, is that it is totally 'Complete in 3' friendly! Which means, a good amount of protein, fat AND fibre to keep you feeling fuller, more satisfied and helps maintain your blood sugar levels without spiking! This way of eating is so beneficial to all the systems in your body, from maintaining blood sugar levels to being able to provide you with so much nutrients that your body actually knows what to do with! PLUS it's So Yummy! And something you, your partner, and your kids will love too!
Thank you so much fro sharing Dani!
To learn more about Dani and her programs check her out @fearlessfitnesshealth
PS Do you want get CERTIFIED as a Fitness & Nutrition Expert?  You can get started TODAY so download our program brochure here and learn how you to create your dream life, health & career!